Wire Mesh Series
Metal Wire Series
Wire Mesh Machine

Semiautomatic Chain Link Fence Machine
Performance characteristic:
The machines are operated simple the technics can control easily, It adopt the cutting wire artificially, border closing, The surface of panel is smooth, the function is reliable, services conveniently, it is suitable for the small enterprise.
Main technical parameter
Ourside size: length: 2400, width:4400mm, hight:2500mm
Biggest workplace: 8000mm the biggest breadth: 8000mm
The biggest aperture of weaving:52*52mm
The biggest line diameter of weaving:4.0mm
The smallest line diameter of weaving:1.0mm
Power: 3kg/set, 0.12kw/set
Production efficiency:15-20m2/h
General weight: 1.5T.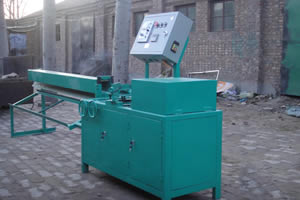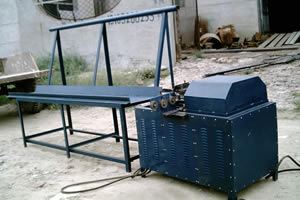 Automatic Chain Link Fence Machine
The spider metal wire diamond mesh weaving machine adopt the principle of weaving double wire from Germany, the production effciency is high and the quality of mesh sheet is reliable. The machine design is reasonable, control by the microcomputer integration of machinery. Automatically complete the spinning, cut, working procedure and volume net, border closing. The advanced import craft, the domestically produced machinery price, which is the ideal choice for the vast users of diamond mesh.
Main technical parameter
productivity: 25-60m/h
The diameter of steel wire: Ø2.0mm, Ø4.0mm
Spinning radical: Double wire
The introduction: the standard of steel wire is fit for: GB3081-82, YB544-65
The materials of steel wire:B1F-B3F
The width of mesh sheet: 600-2000mm
The length of mesh sheet: no matter what eleds
Power: electrical machine: 3.0kw/set, 4.0kw/set, 0.12kw/set